Blog
Why Choose Mid-State Auto Glass?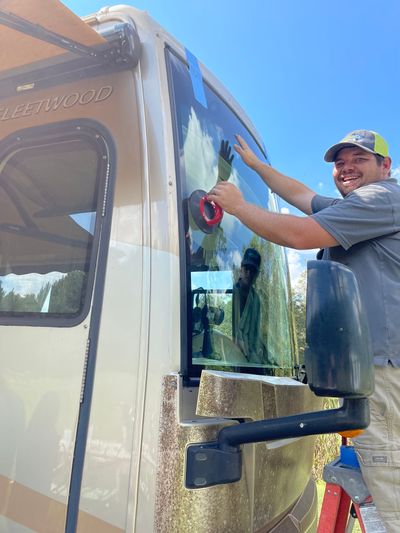 The difference with Mid-State Auto Glass comes down to reliability, quality and our friendly down-to-earth technicians. After being in the auto-glass business for over 15 years, our head technician is here to answer any questions you have concerning your auto glass. Here are a few reasons why Mid-State Auto Glass should be your first call for any of your auto glass needs:
1. All of our technicians are trained and certified with the Auto Glass Safety Council (AGSC). The Auto Glass Safety Council "is a not-for-profit organization dedicated to the safe repair and replacement of auto glass. The Auto Glass Safety Council was founded and is supported by companies in the auto glass repair and replacement industry and other stake holders who keep safe repair and replacement their primary goal."
2. We are also certified with DOW Chemical Products. We only use DOW Urethane at Mid-State Auto Glass to make sure your vehicle has a clean, proper and safe seal around your windshield or back glass. Dow guarantees that the strength and integrity of your auto glass will be the same as when your vehicle was when it left the manufacturer.
3. We work with your insurance company to get you back on the road safely and as quick as possible. Give Mid-State Auto Glass a call and we will do all the work for you. If you have full coverage insurance in South Carolina then you will have a $0 deductible on auto glass. Did you know we also come to you? So after you give Mid-State Auto Glass a call, we really do handle the rest!
4. We also offer out-of-pocket costs and competitive pricing. While we understand the saying, "you get what you pay for," we also try our best to take care of our customers the best we can. That being said, we install the best quality glass at the best price around.
5. We have four glass vendors that deliver daily. What does that mean for you? It means that we can usually have your particular auto glass that same day or the very next day! We work as quickly as possible to get you back on the road as soon as we can, whether you have a repair or replacement.
6. We are LOCAL. We have grown up in the area and love supporting our local businesses and hope you do too! We believe that being local and caring about our customers is one of our best attributes.
7. We have a Lifetime Warranty on our workmanship. If you have any issues at all, give us a call and we will come asses the issue and see if it is covered under our warranty. Vehicles with damage including rust and body damage will not be covered under our warranty. We strive to help our customers and stand behind our work.
8. Our customer service is top notch. We love what we do and we love helping you! After an auto glass job is complete, you will usually have at least one of our cell phone numbers. You are welcome to call that if you have any issues and we will be happy to assist from there.
9. We come to you! Mid-State Auto Glass is a mobile auto glass company. We can come anywhere to replace your glass. All we need is about an hour of your time. We are happy to do it while you are at home, work or even the grocery store!
10. Last but not least, we pride ourselves on reliability. Unlike other auto glass companies, we like to give our customers a two to three hour window when our technicians will be arriving giving you a time frame to plan your day around.
Auto Glass Terms
3rd Visor Frit

Also known as the frit band, is a black dotted section behind or around the rearview mirror. The main purpose of the 3rd visor frit is to keep the sun out of your eyes in the space between the visors and the roof of your vehicle.

ADAS

ADAS stands for Advanced Driver Assistance Systems. ADAS is a system designed to help reduce the number of car accidents due to human error and to increase the safety of the vehicles operations. ADAS is an electronic system in a vehicle that uses advanced technologies to assist the driver and to prevent accidents. A few different ADAS features would include Forward Collision Alert, Lane Departure Warning Systems, Lane Keep Assist and many others would fall under the ADAS category.

Adhesive

Windshield and back glass adhesive is what is used to hold the windshield in place, safely. We use DOW products for our adhesive. Also see definition of Urethane.

Acoustic Interlayer

A windshield with an Acoustic Interlayer has added layers of soundproofing insulation inside the glass. This makes the inside of the vehicle quieter to the outside surroundings, such as road noise.

Auto Glass Safety Council

The Auto Glass Safety Council (AGSC) is "dedicated to the safe repair and replacement of auto glass. The Auto Glass Safety Council was founded and is supported by companies in the auto glass repair and replacement industry and other stake holders who keep safe repair and replacement their primary goal." Our team at Mid-State Auto Glass is trained and certified with the Auto Glass Safety Council standards.

Antenna

Antennas are used for a wide range of things and some vehicles have an antenna attached to their windshield or back glass. This is important for us to know when getting a replacement, so we get the correct windshield for your vehicle.

Back Glass or Back Windshield

The back glass is the glass opposite from the windshield in your vehicle. The back glass or back windshield is usually made with tempered glass. When tempered glass is broken, it shatters into tiny, round pieces of glass. These pieces of glass are relatedly harmless compared to other types of glass that form more jagged-like shards.

Calibrations

Also known as ADAS Recalibration, is the aligning and testing of the vehicles advanced safety systems. There are two types of calibrations: dynamic and static. There are also some cars that require both, which is known as dual calibrations. It depends on which vehicle you have and their particular ADAS system as to which calibration you will need. Mid-State Auto Glass can recalibrate most vehicles using our Mobile Recalibration System.

Condensation Sensor

The condensation sensor is usually located behind or near the rearview mirror. When any moisture is detected on the inside of your windshield, it will automatically adjust the climate control to eliminate fogging.

Door Glass

Door glass replacements, sometimes referred to as window glasses, are very common since tempered glass (see definition for tempered) is most used for door glasses. Any significant damage to this glass will generally result in a replacement because this tempered glass typically breaks into tiny pieces, so repairs are not usually an option.

Electrochromic Rear View Mirror

With both forward and rear facing sensors, electrochromic rear-view mirrors are a newer, special type of rear-view mirror. The forward-facing sensor measures ambient exterior lighting while the rear facing sensor detects bright lights or a glare behind you, such as headlights on the vehicle behind you. This rear-view mirror will automatically dim when these lights are detected.

Fine Wire Heated

These are very thin wires that are layered inside the windshield. They are heated up to warm the surface of the glass to defrost it. This helps to prevent snow and ice from sticking to the windshield or back glass.

Forward Collision Alert

Forward Collision Alert is a type of warning system that will warn or notify you if it detects an impending collision by detecting stopped or slow-moving vehicles. The road is scanned ahead of you by using cameras, lasers, and radars. Not all versions of Forward Collision Alert will alert you automatically, but it is becoming more common.

Heated Wiper Park

(HWP) Heating elements, which are located where the windshield wipers sit while not in use, heat up the bottom of your windshield to defrost and reduce ice buildup on the windshield wipers. If you aren't sure if your vehicle has this feature, Mid-State Auto Glass can usually look up your vehicle details using your VIN number.

Heads Up Display

(Also, known as HUD) This is designed just below the drivers direct line of sight and functions so that the driver does not have to take their eyes off the road. A small projector is in the dashboard that projects a transparent image on the windshield. Some of the features illuminated on the windshield include surrounding speed, the vehicles current speed and navigational instructions.

Laminated Glass

This type of glass consists of two layers of glass with a thin layer of vinyl between them. Laminated glass is not easily cracked or shattered, that is why it is most commonly used for windshields. Laminated glass is used because it increases safety during a wreck or accident. The windshield will not shatter when in an accident so the driver and the passengers will be more protected than if the windshield was made with tempered glass.

Lane Departure Warning System

(LDWS) This is a safety feature designed to prevent accidents. If you are drifting out of your lane without a turn signal, your Lane Departure Warning System will alert or notify you. This is another safety feature that is found in newer vehicles.

Lane Keep Assist System

(LKAS) Lane Keep Assist System, similar to LDWS, will gently steer you back into your lane if you begin to drift out.

Mirror Bracket

In some vehicles, the mirror bracket is attached to the windshield and in some vehicles, the mirror bracket is attached to the headliner. This is only an important factor with a few vehicles in determining which windshield is needed for their particular vehicle.

Molding

The molding refers to the black rubber trim that goes around the windshield. Many windshields come with the molding already attached from our vendors while many of them come separately. It differs for each vehicle and depends on the year, make and model. Some windshields require a molding that goes all the way around the windshield while others only require a top or bottom molding. Some vehicles also require side moldings that are made with a harder plastic.

Originial Equipment Manufacturer

(OEM) An OEM windshield is a windshield that comes from the same manufacturer that was originally installed in the vehicle straight off the assembly line.

Pitted Windshield

This is usually caused by natural wear on the vehicle. Overtime, sand, dust, small rocks and other debris will cause small pits in the windshield. This will become dangerous because it will create craters which will distort the drivers view. While it doesn't seem so terrible at first, eventually, it could completely block the drivers view.

Quarter Glass

The quarter glass is usually the last window on the side of a vehicle. It is a smaller and sometimes oddly shaped piece of glass. The glasses are called quarter glasses because they are usually around the rear quarter panel of a vehicle.

Rain Sensor

The rain sensor is usually mounted on or near the rear-view mirror. This sensor can detect if it is raining and how hard it is raining. The sensor can turn on the wipers and adjust them to the speed of the rain. This is designed so the driver does not have to worry about manually maintaining and adjusting the wipers and can focus on the road ahead.

Resin

Resin is used when a chip repair needs to be done. Resin is the finishing filler and leaves a clear, smoothe finish after it is applied. After the rock chip or bullseye is repaired with resin, the windshield will become better stabilized than it was with a chip. Resin does not make the chip completely invisible.

Rock Chip

When a rock or stone or any other type of debris flies up and cracks your windshield, we refer to it as a rock chip or bullseye. If the crack doesn't spread and remains smaller than a quarter, we can repair it with resin. This does not make the chip invisible or completely go away but it does prevent the chip from spreading and cracking the entire windshield. It also stabilizes the windshield more than it would be with the chip. Our team at Mid-State Auto Glass likes to fix these rock chips or bullseyes as soon as possible to prevent further damage.

Safe Drive Away Time

(SDAT) With the Urethane we use at Mid-State Auto Glass, the Safe Drive Away Time is an hour. We ask that you wait at least an hour after the windshield is installed before you drive away.

Side Glass

See definition for Door Glass.

Sun Roof

The sunroof on a vehicle is the glass on the roof of the car. The sunroof allows natural light to get into the vehicle.

Solar Coated

Solar coated gives the windshield a few extra layers of absorbing material. It blocks over 95% of ultraviolet rays. A solar coated windshield also functions to keep the car cooler in the heat while keeping it warmer in the winter. Cars with solar coated windshields tend to have a purple-ish haze from the outside looking in.

Tempered Glass

Tempered glass, which is usually used for auto door glasses and back glasses, is typically four times stronger than any other glass its size. Tempered glass is created using the process of tempering, which uses a tempering oven and over 600 degrees Celsius. The glass then goes through a high-powered cooling system which gives tempered glass its super strength.

Urethane

Urethane is the adhesive that is used to mount and seal the windshield and back glass to keep it in place. This adhesive is typically a thick, black substance that is used around the entire frame of the vehicle where the glass is being replaced. Once the Urethane is properly applied, the windshield is placed and for the most part, the Urethane is unnoticeable. Mid-State Auto Glass uses DOW Chemical products for Urethane, which we are trained and certified with.

Vent Glass

Vent glasses, which used to be used to actually vent cars before air conditioning, are oddly shaped, small windows fitted around the vehicle. It is rare to see a vent glass that actually opens nowadays but they are still referred to as vent glasses when needing a replacement. Vent glasses are easily replaced.

VIN Number

The VIN Number on a vehicle is a unique, 17-digit number specific to your particular vehicle. With the VIN Number, we can usually tell which specific features your vehicle has.

Windshield Color

Windshields come in many different colors or tints and the shades that go across the top of the windshield as well. Although your particular vehicle may only offer one or two of the shade colors, there are many different options. The five most common tint colors are clear, blue, green, gray and bronze.

Window Regulator/Motor

This is the assembly that is found within the cars door panel to move a door or window glass up and down. Have you ever had your window get stuck and would not roll up or down? This was due to your window regular not working properly. Mid-State Auto Glass will diagnose the issue and order a new one for you to get you back on the road safely.

Windshield Repair

See definition for Rock Chip Repair.

Windshield Replacement

Windshield Replacement refers to the complete replacement of your windshield.